One of the nice new features of Windows 7 is support for Jump Lists. These apply to applications that support the feature to allow you to quickly access application specific features, often including the MRU (Most Recently Used) lists. In Visual Studio Beta 1, this list showed the new files that you created. What it missed was perhaps the more important part. It didn't include links to the most recently used Solution files, only the class (.vb/.cs) files.
With Beta 2 which was released to MSDN subscribers today, you can now directly access recent solutions from the task bar as you can see below (notice the new icon as well):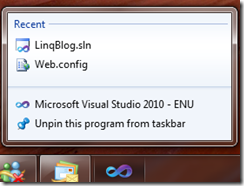 There are a bunch of enhancements and I'm sure you'll be hearing more about them in the coming months.